BernarducciMeisel-Gallery
2013
After the ten years working with OK Harris Works of Art, New York time has come for a new cooperation with this, eminent and inspiring artdealer in the same city at 57th street / 5th Avenue.
The first show with Tjalfs works included will open June 6th, 2013.
About the gallery In September of 2000, Frank Bernarducci and Louis K. Meisel opened Bernarducci Meisel Gallery at 37 West 57 Street at 5th Avenue in New York, a long established crossroads of the art world. The focus is the presentation of the finest contemporary realist art including established and emerging artists of the genre. Since the Gallery's inception, our artists have exhibited both nationally and internationally and their work has been included in important museum surveys and featured in solo museum exhibitions. In 2010 the Gallery expanded from 3,000 to 6,000 square feet at 37 West 57 where we now occupy the entire third floor. In addition to greater visibility, this larger space gives us the ability to present more comprehensive exhibitions, now and in the years to come. Our goal is to provide the foremost opportunity for the world's leading realist painters and sculptors. Bernarducci Meisel Gallery also continues to present important historical shows such as early works on paper by Chuck Close, classic paintings by Richard Estes, Ralph Goings, Robert Bechtle and Mel Ramos, artists proven to be influential to the upcoming generation of realist artists. In addition to exhibiting the artists it represents, the Gallery is actively involved in the secondary market of artists important to its history. About Frank Bernarducci He has been Director and Partner of Bernarducci.Meisel.Gallery since its inception. His reputation has been built on his ability to discover new artists, elevating their careers, and placing their work in important public and private collections. He is also known for expanding the visibility of established artists by featuring their work in significant exhibitions worldwide, supported by a large and loyal collector base. Mr. Bernarducci has a long list of curatorial endeavors to his credit.
About Louis K.Meisel For Louis K. Meisel, Bernarducci Meisel Gallery is an extension of his existing SoHo operation. From the time he opened his first gallery on Madison Avenue in 1967, Mr. Meisel emphasized the work of realist artists. In 1969, Mr. Meisel coined the phrase Photorealism and became a pioneer of Photorealist art, championing the work of such renowned painters as Richard Estes, Audrey Flack, Chuck Close, Charles Bell, Ron Kleemann and Tom Blackwell. In 1973 Louis K. Meisel Gallery opened its doors on Prince street and West Broadway where it occupies 20,000 square feet and continues to exhibit new and classic paintings by many of the original Photorealist artists. Mr. Meisel is the author of numerous books including the definitive volumesPhotorealism, Photorealism Since 1980 andPhotorealism at the Millenium. The fourth and final volume entitled "Photorealism in the Digital Age" will be published in 2013 by Harry N. Abrams. Mr. Meisel has also published monographs on Charles Bell, Richard Estes and Mel Ramos, and pottery designer Clarice Cliff.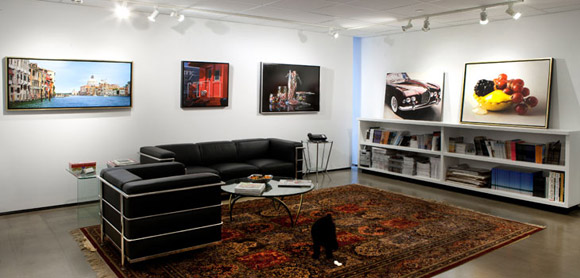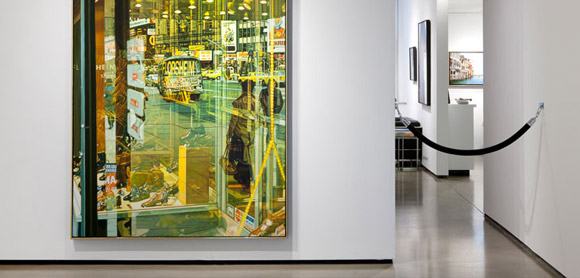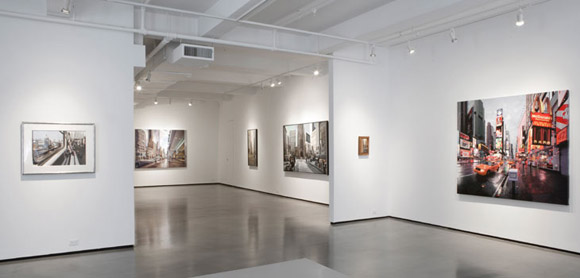 The Gallery at 57th street / 5th Avenue New York
Frank Bernarducci en Louis K.Meisel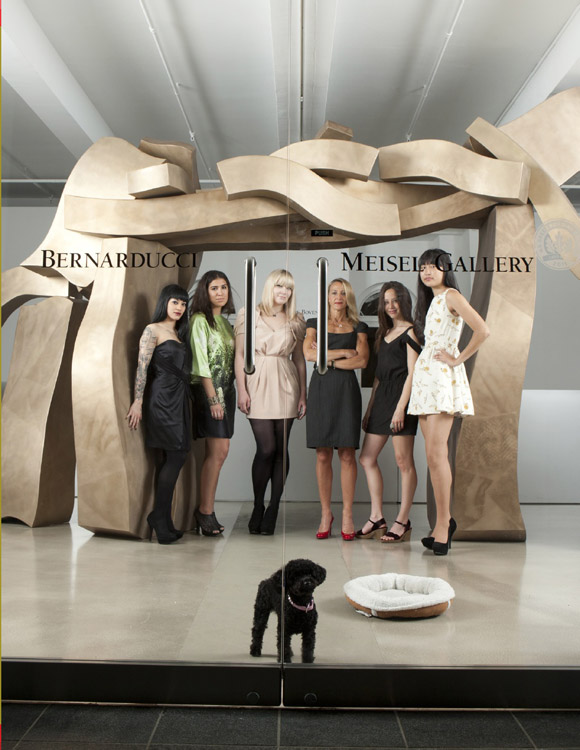 de Gallery Girls, very important